CES 2012: Smart TVs invite you to ditch the remote
(Read article summary)
Electronics makers rolled out their biggest, thinnest, sharpest new displays at CES 2012 in Las Vegas. But the biggest surprises might be under the hood: social connectivity and innovative new voice and gesture controls.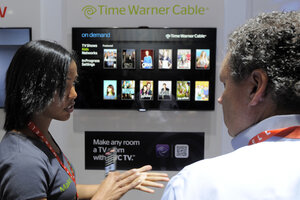 Jack Dempsey/AP image for Time Warner Cable
As the 2012 Consumer Electronics Show gets underway in Las Vegas on Tuesday, one trend is already apparent: TV shopping isn't just about looks anymore. This year's top televisions will need inner beauty.
Samsung, LG, Lenovo, and other electronics companies have introduced new smart TVs with Web applications, voice and gesture commands, and scads of other features. If you're in the market for a new, cutting-edge TV, this is going to be a very good year.
Let's take a quick tour of what's on offer, with the caveat that the prototype models on the floor at CES likely won't be available in stores for a few months still. The trend is toward thinner, brighter TVs with greater Web connectivity (think social networking in addition to YouTube, Netflix, and the like). Of course, there are Wi-Fi-enabled smart TVs on the market already – but CES shows us what's around the corner.
First, there's a push to ditch the remote. LG and Lenovo both introduced TVs that allow users to search for content with voice commands, and Samsung is taking it a step further with motion control similar to what's found in the Xbox 360 Kinect. Turn on the TV with a word, flip through channels with a gesture. Some Samsung TVs will even incorporate facial recognition to log users into applications such as Skype. Is it superfluous? Maybe. Will it make you feel like you're living in the future? Absolutely.
---