New laptops: Is this the year of the 'ultrabook'?
(Read article summary)
Looking for new laptops? This year's Consumer Electronics Show is filled with ultrabooks -- new laptops that are thin and light -- and a few models are getting positive press already.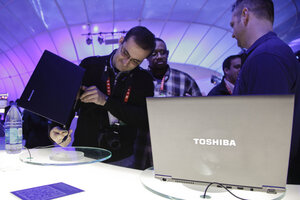 Julie Jacobson/AP
Most of the coverage coming out of the 2012 Consumer Electronics Show has centered on thin, Web-savvy TVs -- especially super-crisp OLED displays from LG and Samsung. But if the small screen is more your speed, don't worry: we've also gotten glimpses of lots of exciting new laptops and tablets on the floor this year.
Last year's CES was all about tablets, as manufacturers tended to employ the "throw things at the wall and see what sticks" method in offering alternatives to Apple's iPad. Things are a little more muted this year, and that's probably a net positive: while there are fewer tablet models on display, companies like Acer, Lenovo, and Samsung have put more effort into polishing what's available. There's less danger of drowning in a sea of "me-too" Android tablets this year.
---