Is the new iPad a 4G data hog?
(Read article summary)
The latest iPad comes with 4G connectivity. And that may not always be a good thing, consumers are finding.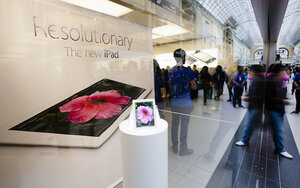 Reuters
The new iPad: By all accounts a solid machine, and a worthy successor the iPad 2.
Also: Something of a data hog. According to a new report in the Wall Street Journal, users are finding that the latest version of Apple's popular tablet, which comes equipped with 4G LTE capability, siphons through data at an alarming rate. Now nominally, of course, faster download speeds are a good thing. The faster the download speeds, the less buffering and the better the video quality.
But 4G isn't free – folks who bought an LTE-equipped iPad signed for one of three data plans, each with a different download cap. AT&T, for instance, offers 250 MB for $14.99 a month; 3 GB for $30 a month; or 5 GB for $50 a month. Overshoot those limits, and you pay a fee. And with 4G, it's often really easy to overshoot the limits. (It's worth noting here that it costs nothing to access data via the Wi-Fi antenna on any iPad.)
---