'Revolutionary' Apple device arriving this year, says French designer
(Read article summary)
French designer Philippe Starck says he helped design a 'revolutionary' device for Apple, which will arrive in eight months.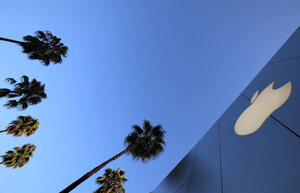 Reuters
Usually tech rumors – and especially Apple rumors – are shadowy things, sourced to anonymous insiders or employees of factories in China or Taiwan. Well, hey, this is a nice change of pace: Philippe Starck, the famed French designer, has told a Parisian newspaper that he is helping Apple design a "revolutionary" product, which will hit shelves in approximately eight months. In other words, Starck is both the progenitor and the subject of the rumor.
What Starck actually said – courtesy of our high school French classes and an assist from Google Translate – is this: "In effect, there is a big project that we're working on together." Starck, invoking Apple's famed "culte du secret religieux" – cult of religious secrecy – declined to comment further. And Apple is staying mum. So is this for real?
---