BlackBerry Curve 9220 looks to a new audience
(Read article summary)
RIM, the maker of the BlackBerry handset, hopes young Indian consumers will snap up the BlackBerry Curve 9220, a relatively inexpensive BlackBerry handset.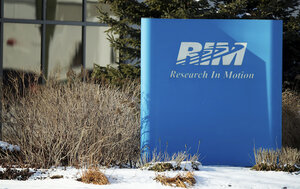 Reuters
Long since outstripped in North America by Android and Apple, Research in Motion, the maker of the BlackBerry, is launching a new, low-end smartphone in the Indian market. The handset, dubbed the Curve 9220, is not exactly packed with firepower – an FM radio and the BlackBerry 7.1 OS is about as good as it gets – but RIM is betting that the Curve will be a success, especially among teenage and twenty-something users.
"The new BlackBerry Curve 9220 offers a unique mobile experience that young Indians will love thanks to its affordable pricing and unmatched messaging and social connectivity features," Sunil Dutt, Managing Director for India at RIM, said in a statement this week. Dutt pointed specifically to the BBM messaging system and Facebook and Twitter apps.
---