Are we there yet? Ask Apple's new Siri for cars.
(Read article summary)
Siri, the voice-activated personal assistant introduced on the iPhone 4S, is coming to automobiles everywhere.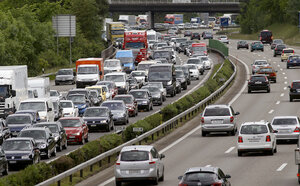 Reuters
Siri: On your iPhone, on your iPad, and in your car.
Earlier this week, Apple announced it would roll out Siri, which originally premiered on the iPhone 4S, to the iPad line of tablet computers. Now, Apple is introducing a functionality called Eyes Free, which will integrate Siri into the voice control systems on select automobiles. According to MSN, the cars include models offered by GM, BMW, Toyota, Chrysler, and Honda.
---