Nexus 7 tablet, Nexus Q orb charge into Apple and Amazon territory
With the announcement of the Nexus 7 tablet and Nexus Q streaming media player, Google has entered Apple and Amazon territory.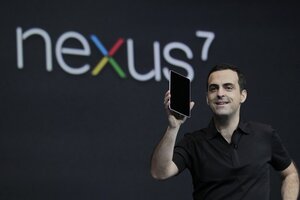 Paul Sakuma/AP
Google unveiled the new Nexus 7 tablet and Nexus Q streaming media player Wednesday morning at the company's annual I/O developer conference in San Francisco. The two devices seem like direct challenges to Amazon's Kindle Fire and the Apple TV.
Google revealed the long-anticipated $199 Nexus 7, which will start shipping mid-July, after a discussion of the refurbished Google Play, Android's mecca of music, movies, books, magazines, apps, and games.
"[The Nexus 7 is] optimized around all this great content available on Google Play," said Hugo Barra, Director of Google Product Management, while gripping the 7-inch tablet in one hand.
Google's first tablet, co-developed by ASUS in Taiwan, runs on Android's upcoming software, 4.1 Jelly Bean. The device boasts 1280 by 800 high-definition screen resolution, a quad-core processor, and a 12-core graphics-processing unit. Users can watch up to nine hours of HD video without recharging the device; otherwise, it survives on about 300 hours of standby time.
Designers have also included a 1.2 megapixel front-facing camera, an improvement over Amazon's camera-less Kindle Fire.
Moreover, the Fire has a 1024 by 600 screen resolution and a battery recharge time of about four hours. And while the Nexus 7 weights 12 ounces, the Fire comes in at 14.6.
Google also revealed its competitor to the Apple TV, a "social streaming media player" dubbed the Nexus Q, also shipping mid-July. Shaped like a baseball and easily balanced in the palm of one's hand, it works as a router for Android users to share music, movies, television shows, and more.
---