Skype for Windows 8: A new look?
(Read article summary)
Windows 8 may launch with a redesigned and integrated version of Skype.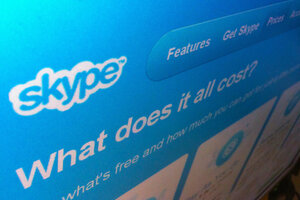 Reuters
Windows 8 will likely include an integrated version of the voice-over-Internet software Skype.
The evidence comes in a series of leaked screengrabs, which appear to show an overhauled Skype app running on a Windows 8 device. The new interface includes a color-coded contacts chart, a favorites list, and a blocky, clean-cut design in line with the general Metro (now Modern) aesthetic. Traditional caveats apply: The provenance of the screengrabs is a little shaky, and Microsoft has not confirmed the images are real.
Still, over at Neowin, a news site that focuses on Microsoft, Brad Sams claims to have taken a spin on the new Skype, and he proclaims it "fluid" and "fast." Sams: "During our time with the application, it did not crash a single time. In fact, when chatting via voice and text, the parties on the other end could not tell that we were using the preview app. Considering how well polished this application is, we fully expect that it will be released by Microsoft in the very near future."
---