4G LTE: How fast is the new iPhone 5?
(Read article summary)
The new iPhone 5, which was unveiled Wednesday in San Francisco, has no shortage of features. Perhaps chief among them: 4G LTE.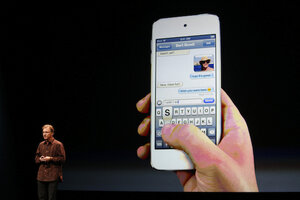 Reuters
The new iPhone 5, which debuted today, is the lightest and thinnest iPhone to date.
It's also the first Apple smart phone to truly take advantage of 4G LTE technology. (The iPhone 4S was sometimes branded as a 4G phone, but as Horizons editor Chris Gaylord explains in a helpful primer, the 4G on the iPhone 4S was actually more like 3G+.) Expect much improved download times and faster Web browsing. The iPhone 5, Apple marketing chief Phil Schiller explained at a press conference earlier today, "just screams."
In the US, Verizon, AT&T, and Sprint will all offer 4G LTE plans for the iPhone 5. (T-Mobile, which doesn't carry the iPhone at all, is left out of the mix.) In Canada, CNET reports, 4G LTE carriers include Bell, Telus, Fido, Virgin, and Kudo; in Europe, it's Deutsche Telekom and EE. That's a lot of coverage. Modest question: How fast will the LTE connection be on the new iPhone, exactly?
---