Wii U hits stores Nov. 18. Nintendo reveals prices.
(Read article summary)
The Nintendo Wii U, the successor to the top-selling Wii, will hit the holiday-shopping sweet spot. According to Nintendo, the base-level Wii U will retail for $299.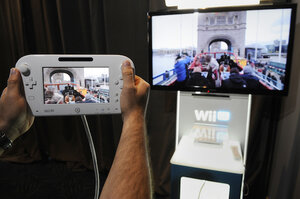 Reuters
If you've got a potentially blockbuster electronics product, you don't want to launch it in the spring. You want to launch it in the late fall, when the lines at BestBuy and Target are long, and everyone and his mother is ticking items off the holiday shopping list. Hence the ship date of the long-awaited Wii U console, which Nintendo confirmed today for Sunday, Nov. 18.
Nintendo also provided prices for the Wii U: $299 for a basic package consisting of the console and GamePad controller and requisite cables and sensor; and $349 for a suite that includes a charging stand, a console stand, and a Nintendo Land disc. That's in line with the initial list price of the Microsoft Xbox 360 and cheaper than the initial list price of the Sony PlayStation 3 – although those consoles now start at $200 and $250, respectively.
---