iPhone 5 pre-order opens Friday. So how does the new Apple phone handle?
(Read article summary)
We survey a few hands-on tests of the forthcoming Apple iPhone 5.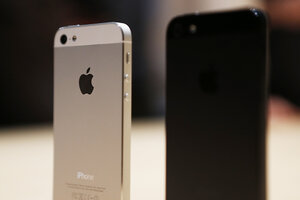 Reuters
iPhone 5 pre-orders start at midnight Friday (3 a.m. Eastern), Apple has confirmed. That means you've got only a few hours to decide if the long-awaited successor to the iPhone 4S is really for you. Want some help? We've compiled a short collection of early impressions from trusted critics, all of whom have gotten their mitts on the iPhone 5 for at least a few minutes after yesterday's press conference.
We'll start with Christina Bonnington at Wired. Bonnington likes the finish on the iPhone 5, which is a "handsome" brushed aluminum, an improvement over the glass backing on the iPhone 4 and iPhone 4S. She also admires the size of the handset, which is taller than previous iterations, if not wider.
"One of the problems I find with some larger phones, like the Nokia Lumia 900, is that their size and smooth veneer can make them tough to hold onto," Bonnington writes. "Not so with the 5. Since it's the same width as the current iPhone, you don't need to awkwardly stretch your hand wider to grasp it, which is a definite plus — unless you find the iPhone too small for your palm."
That taller chassis, of course, makes room for a much taller screen. And Sascha Segan, for one, is appreciative.
"The most immediate advantage of the bigger screen is just that you see more of stuff," he writes. "Holding an iPhone 5 next to a 4S, I was able to glimpse more calendar appointments, more of a map, more of a Web page. All the apps that come with the iPhone 5 are designed to use the bigger screen. Older third-party apps need to be reprogrammed; until then, they'll be letterboxed with black bars at the top and bottom of the screen."
---