Windows 8 goes live, marking a 'new era' for Microsoft
(Read article summary)
Windows 8 officially launched today at a press event in New York. So is the new Microsoft OS any good?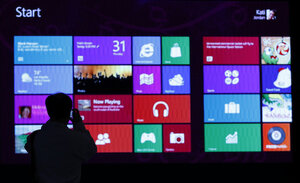 Reuters
Windows 8 has officially launched, thus inaugurating a "new era for Microsoft and our customers," Microsoft chief executive Steve Ballmer said at a press event in midtown New York.
Beginning today, Windows 8 will be available on a range of devices, including desktops, laptops, and Surface tablet computers.
"With Windows 8, we have brought together the best of all worlds, the PC and the tablet, your work and your life," Ballmer said at the event, according to The Wall Street Journal.
In a separate address, Steven Sinofsky, who heads the Windows team at Microsoft, announced that Windows 8 had undergone approximately 1.24 billion hours of public testing in 190 countries. (Horizons readers will remember that Windows 8 launched in "consumer preview" mode way back in February.) "No product anywhere receives this kind of testing anywhere in the world," Sinofsky said.
So has all that testing paid off? Well, early reviews of the new OS are largely positive. CNN calls it a "big, beautiful, slightly shaky step forward."
---