Wii U systems crash. Nintendo blames online update.
(Read article summary)
A firmware update for the Nintendo Wii U takes longer to download than many users would have liked – and may even cause the Wii U console to 'brick.'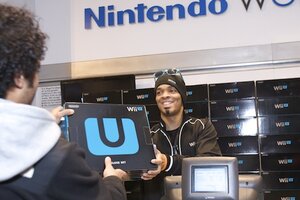 Nintendo
The good news: On Sunday, Nintendo officially launched its long-awaited Nintendo Wii U console. The not-so-good news: A firmware update necessary for online play has taken some users hours to download, and in a few cases, has apparently "bricked" the machine – irrevocably breaking it, basically.
According to a handful of tweets and message board posts (hat tip to Ars Technica), the problem occurs if the power or Internet signal cuts off while the 5 GB update is being installed. Among those affected was Ben Fritz, a tech writer for The Los Angeles Times.
"Wii U has stopped functioning before I managed to play a single game. I tried to stop an interminable software update and now... nothing," Fritz tweeted yesterday. "On a related note, anybody in the market for a big black paperweight?" he joked later.
It's worth noting that plenty of folks have criticized Fritz and others for attempting to stop the firmware update at all. As one of Fritz's followers wrote, "It's common sense to not interrupt an update. Surely you should know this."
---