Samsung says it will ship half a billion phones in 2013
(Read article summary)
Samsung expects to sell 510 million phones in 2013, the company announced on Wednesday. Samsung says most of those devices will be smart phones, cementing the company's status as the world's biggest phone manufacturer.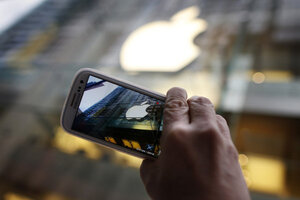 Tim Wimborne/Reuters/File
Samsung may be the biggest phone maker in the world, but it's not resting on its laurels: the Korean company announced on Wednesday that it expects to ship 510 million handsets in 2013, three-quarters of which will be smart phones.
Samsung shipped 420 million handsets in 2012, which means that if its 2013 estimate is correct it'll be a 20 percent jump for the company. The Korea Times reports that 390 million of its 2013 sales are expected to be smart phones, and that Samsung is counting on pulling away from its biggest smart-phone rival, Apple.
That estimate may be a little bit rosy: market research firm Gartner previously predicted that Samsung would sell between 250 and 300 smart phones in 2013. But no matter how you slice it, Samsung's sales have been rising sharply. The company sold 0.6 million smart phones in 2009, 23.9 million in 2010, and 97.4 million in 2011.
What's on the menu for Samsung in 2013? The company will continue to develop its popular line of Galaxy smart phones and tablets, which are rivals to Apple's iPhone and iPad. It also plans to release a line of Windows Phone 8 handsets to compete with offerings from Nokia and HTC. As fast 4G LTE networks grow, Samsung will also double down on LTE-compatible devices to meet demand, Samsung executive Kim Hyun-joon said, quoted in The Korea Times.
---