Racist Google ads? New study links names to negative ads.
(Read article summary)
A Harvard University professor's new study finds that Google ads might have a racial bias. What does it mean for Google users?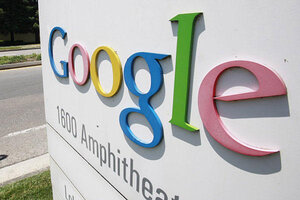 Paul Sakuma/AP
Vanity searches, we all do them. You open up Google Search, type in your name, and see what pops up. The typical results include Facebook, LinkedIn, and Twitter links. Advertisements, however, change from person to person and a new Harvard study provides a disturbing look at why that might be.
Latanya Sweeney, a professor of government at Harvard University, conducted a study on Google and discovered that searches for "black sounding" names were 25 percent more likely to yield advertisements for criminal records searches, even if the person has no such record.
According to the Boston Globe, Sweeney stumbled onto the topic after a colleague showed her what appeared when Ms. Sweeney's name was searched. The resulting advertisements for an arrest record shocked the professor, who has never been arrested.
The ads also inspired the computer scientist and specialist in data privacy to dig deeper into the matter. By comparing names like, "Trevon, Lakisha, and Darnell" to "Laurie, Brandon, and Katie," Sweeney began to compile her data. More than 2,100 names later, she uncovered troubling news.
---