UK loophole: Why your Facebook photos may show up on a billboard
(Read article summary)
New UK law has artists and social media users uneasy. The act would allow companies to use some images without the photographer's permission.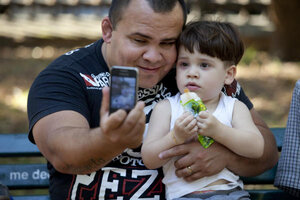 Melanie Stetson Freeman/The Christian Science Monitor
British Parliament passed an act that could allow businesses in the UK to use photos obtained from Facebook and Instagram without permission.
Many photographers, amateur and professional, are fearful the act will enable their work to be exploited without credit, permission, or payment.
The UK government says the act streamlines copyright licensing for works of unknown authorship.
This alteration to copyright law was tagged into a larger act aimed at cutting through regulatory red tape. Under the Enterprise and Regulatory Reform Act – which last week received Royal Assent after passing parliament – "orphan works," or works with an unknown author, could be used commercially or non-commercially.
The act alters the standing copyright regulations around "orphan works" by allowing businesses to pay a fee to use them if they can't find the author. (The agency that receives the fee has yet to be established.) Usually, you'd have to wait for the copyright to expire to use an orphan work.
Orphan works include books, music, photos, and films of unknown authorship, but critics of the legislation say photos are particularly ripe for the taking.
The policy change still has one final tiny hurdle – that of authoring the "statutory instruments" or delegated legislation – that is, the exact workings of the law have yet to be formalized. Lawmakers have outlined a general plan, and that plan has been approved, and now all that's left is filling in the blanks. A statutory instrument has not been voted down in 36 years, making it doubtful that any will this time.
The UK government says the purpose of the alteration is to make obtaining the copyright license of legitimate orphan works more efficient. "The powers [established in the act] do not remove copyright for photographs or any other works subject to copyright, nor do they allow anyone to use a copyright work without permission and free of charge," a spokeswoman for the Department of Business, Innovations and Skills told the BBC.
---