Kinect hack makes Gmail's April Fools' prank real
A new Kinect hack lets computers understand American Sign Language, and control Gmail.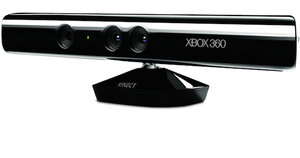 Newscom
Soon, you may not necessarily need to be fluent in American Sign Language (ASL) in order to interpret it. Scientists have hacked Microsoft's Xbox Kinect motion control sensor to read ASL.
The real-world feat is reminiscent of Google's April Fools' Day prank this year, in which the company falsely debuted a featured called Gmail Motion that allowed users to translate bodily gestures into words and email commands.
RELATED: The 10 weirdest uses for a smartphone
The Kinect, which debuted in November, offered a revolutionary way to interact with computers without pushing any buttons or holding any device whatsoever, using only body motions to control Microsoft's Xbox game console. The add-on, which is essentially a motion-sensing webcam, uses an infrared scanner to create 3-D models of people as they move, allowing users to play games by swimming their arms, shimmying their bodies or performing other so-called natural interactions. The Kinect has proven very popular, with 8 million sensors sold worldwide within 60 days of its launch.
---