E3 2011: Nintendo Wii U delights gamers, scares investors
At E3 and in Japan, there's disagreement over whether the Wii U, Nintendo's new console, will change gaming forever or completely flop. With many months, and likely another E3, before the Wii U launches, there's still much to learn about the new system.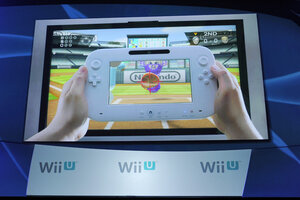 Chris Pizzello/AP
Nintendo stock plunged Wednesday in Tokyo amid doubts about the consumer appeal of the Wii U, the much ballyhooed successor to its hit Wii video game console.
The demonstration of a prototype at the Electronic Entertainment Expo (E3), the gaming industry's annual convention, in Los Angeles on Tuesday, appeared to leave investors disappointed and skeptical.
Nintendo Co. shares closed at 16,970 yen ($212.44), down more than 5 percent. The benchmark Nikkei 225 index ended flat.
Shuji Hosoi, analyst at Daiwa Securities Co., said it was unclear how successfully the machine would compete against smartphones and tablet PCs, when device-based gaming was already having to vie against social networks.
It is hard to see how it was different enough to woo users of smartphones and tablet PCs back to gaming, he said.
"People are puzzled whether this will really sell."
---