Grocery store? South Korea uses smartphone apps instead.
New smartphone apps let South Koreans order groceries during their commute. The food arrives when they get home. Can such smartphone apps work in the US?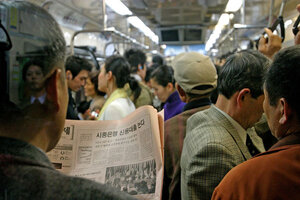 Newscom/FILE
Where the rest of us see subway walls, Tesco's South Korean supermarket chain Home Plus sees grocery shelves. In a trial run, Home Plus has plastered a subway station with facsimiles of groceries, labeled with a unique code for each product. As commuters pass by on their way to work, they can use a mobile-phone app to take pictures of the products they want, then check out. The groceries are automatically delivered to their doorstep by the end of the work day.
The virtual grocery store has been a hit among more 10,000 customers, with Home Plus reporting a 130 percent increase in online sales. The experiment is just one of the increasingly innovative ways mobile devices are being used in retail. Location-based smart-phone advertising is seen as a potentially valuable way to reach new customers. Some companies in the United States are also using indoor positioning technology as a way to guide shoppers to products and show them special offers. And software makers are exploring different ways of paying for products by smart phone.
In Home Plus's virtual store, each image of a grocery item is accompanied by a quick-response (QR) code, a boxy geometric image that encodes data—the product and its price. When each code is scanned, the item goes into an online shopping cart. Customers then use their phones to pay before hopping the train to work.
---