Phone hacking rocks Scotland Yard, News Corp. – and Cameron?
Phone hacking fallout leads to multiple resignations. But can the phone hacking scandal reach Prime Minister David Cameron's government?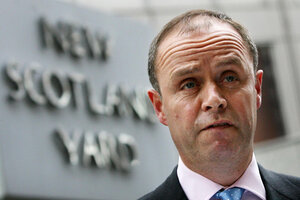 Lewis Whyld-pa/AP/FILE
Claims of illegal eavesdropping, bribery, and collusion hit at the heart of Britain's police on Monday with the rapid-fire resignations of two of its top officers.
Prime Minister David Cameron on Monday called an emergency session of Parliament on the phone hacking crisis that has spread from slashing billions off of Rupert Murdoch's News Corp. media empire to threatening his Cameron's own leadership.
The crisis triggered upheaval in the upper ranks of Britain's police, with Monday's resignation of Assistant Commissioner John Yates — Scotland Yard's top anti-terrorist officer — following that of police chief Paul Stephenson, over their links to an arrested former executive from Murdoch's shuttered News of the World tabloid.
The high-profile resignations are making it harder for Cameron to contain the intensifying scandal on the eve of an unwelcome public grilling by lawmakers for Murdoch and his son James.
The government quickly announced an inquiry into police-media relations and corruption.
Home Secretary Theresa May said that people were naturally asking "who polices the police," and announced an inquiry into "instances of undue influence, inappropriate contractual arrangements and other abuses of power in police relationships with the media and other parties."
---