Apple's new iBooks 2 fulfills one of Steve Jobs' last dreams (+video)
At the Apple announcement Thursday, the company presented its new vision for textbook. IBooks 2 and iBooks Author aim for more interactivity in school texts, just as Steve Jobs imagined it.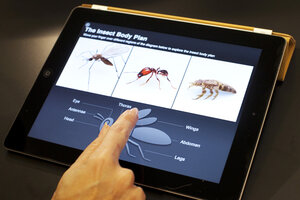 Mark Lennihan/AP
Apple's event in New York showed that the iPad could eventually make paper textbooks an endangered species. And that's just the way that former Apple chief executive Steve Jobs wanted it to be.
In his biography of Steve Jobs, author Walter Isaacson wrote about how Jobs met with media magnate Rupert Murdoch to talk about education. The books says, "Jobs agreed with Murdoch that the paper textbook business would be blown away by digital learning materials."
"In fact, Jobs had set his sights on textbooks as the next business he wanted to transform. He believed it was an $8 billion a year industry ripe for digital destruction. He was also struck by the fact that many schools, for security reasons, don't have lockers, so kids have to lug a heavy backpack around."
The book quotes Jobs as saying, "The iPad would solve that." His idea was to hire great textbook writers to create digital versions and make them a feature of the iPad.
Jobs held meetings with major publishers such as Pearson Education about partnerships.
"The process by which states certify textbooks is corrupt," Jobs said. "But if we can make textbooks free, and they come with the iPad, they don't have to be certified. The crappy economy at the state level will last for a decade, and we can give them an opportunity to circumvent that whole process and save money."
iBooks 2 hands-on
---