CES 2013: If you want a really big HD TV, is it time for an 'ultra HD'?
An ultrahigh-definition screen contains four times more pixels than an HD TV. Higher resolution means viewers can sit about a third closer than with regular HD TV — without losing clarity.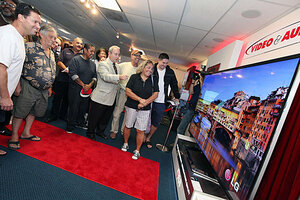 Casey Rodgers/Invision for LG/AP
The race to make TVs larger and larger has created a colossal problem for manufacturers: As screens grow, picture quality worsens — unless the viewer moves farther away from the screen.
The issue is playing out in cozy dens and family rooms around the world. To get the full benefit of a large high-definition screen, viewers must move back from their sets. Since the ideal viewing distance is no closer than three times the height of your screen, or about one and a half times the diagonal length, big TVs have literally forced many families' backs against the wall.
This year, TV makers are doing their best to give huge-screen fanatics more breathing room. New "ultrahigh-definition" sets were shown off Monday by companies such as LG and Sharp at the International CES gadget show in Las Vegas, with other makers set to follow suit. Consumers tend to buy a new set every seven years or so, and television manufacturers are hoping the technology will give consumers a reason to upgrade.
With nearly 8.3 million pixels, an ultrahigh definition screen contains four times more pixels than an HD TV. Because of the higher resolution, viewers can sit close — according to some estimates, as close as the diagonal length of the screen, which is about a third closer than before — without losing clarity. That could be appealing to big-screen fanatics who live in small spaces.
Ultra-HD sets come as small as LG Electronics Inc.'s latest model, which stretches 55 inches diagonally. And estimated prices are dropping from the tens of thousands to below $10,000, bringing these multi-megapixel TVs well within the spending range of early adopters.
---