How the massive cyberattack may have been overblown
Some media outlets labeled Wednesday's internet slowdown the 'biggest cyberattack in history,' but in reality the disruption went largely unnoticed by users. Still, incidents like these highlight the internet's fragility and may prompt necessary fixes.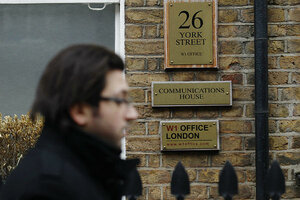 REUTERS/Luke MacGregor
Is it "the biggest cyberattack in history"? Or just routine flak that network-security providers face all the time?
News websites across the Western world proclaimed Internet Armageddon today (March 27), largely due to a New York Times story detailing a "squabble" between the spam-fighting vigilantes at Spamhaus and the dodgy Dutch Web-hosting company Cyberbunker.
"Fight Jams Internet," the Times headline said. "Global Internet slows," the BBC proclaimed in the wake of the Times' story. Both websites alleged that Netflix streaming was slowing down as a result.
The reality is less exciting, though still serious. The Internet disruptions, which were centered in Western Europe, appear to be largely over, and were largely unnoticed even when occurring.
But, if anything, the incident may prompt a fix for a basic security flaw in the Domain Name System that serves as one of the underpinnings of the Internet.
"Despite the work that has gone into making the Internet extremely resilient, these attacks underscore the fact that there are still some aspects of it that are relatively fragile," said Andrew Storms, director of security operations at San Francisco-based network-security provider nCircle.
Too much information
Cyberbunker appears to be behind a massive distributed denial-of-service (DDoS) attack that first tried to first take down Spamhaus, then Spamhaus' network-reliability provider CloudFlare, and finally this past Saturday (March 23) hit CloudFlare's own bandwidth providers in Europe.
---