Facebook Gifts: Great for friends, bad for privacy?
Facebook's 945 million users can now send actual gifts (not just virtual hugs and hearts) to their friends. But will this new feature lead people to over-share on Facebook?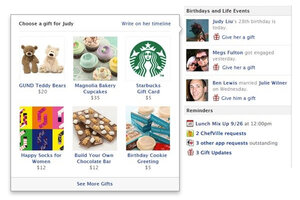 Facebook
Everyone loves when "happy birthday" messages show up on their walls, but Facebook's team realized what users would love even more: real, tangible gifts.
Facebook is all about sharing, whether it's through comments, posts, links, videos, photos, or even game requests. Now users have something new to share, Facebook Gifts, which allows users to send and receive real presents with just a few clicks.
According to Facebook's announcement Thursday afternoon, users can first choose a gift and attach a digital card to send to their friend through Facebook. The gift can post on their friend's timeline or in a private message. The friend will then get to virtually unwrap the gift (and even make changes of equal value) before accepting it. The sender can choose to pay Facebook immediately, or wait until the friend accepts the gift and enters in the shipping information. The physical present arrives later in the mail.
Facebook partnered with various vendors and will continue to gradually add more. Pictures on the Facebook announcement show that the company already partnered with Starbucks and several bakeries. Other pictures show Angry Birds and Star Wars plushies as possible gifts.
"Facebook didn't say in its release how the revenue from goods gets split between it and its partners, but its built-in audience of 945 million users is already a draw for many companies," reports the Washington Post.
---