Disney opens its vault for Netflix
Disney classics will now appear on Netflix. Newer Disney films will get there – in 2016.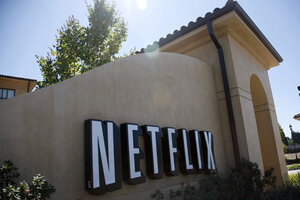 Robert Galbraith/Reuters
Disney fans have been waiting for classics such as "Dumbo," "Alice in Wonderland," and "Pocahontas" to appear on Netfix. Now, it's finally going to happen.
Walt Disney Studios decided not to renew its agreement with Starz, the premium cable channel. Instead, it plans to show its films from Disney, Pixar, Marvel, and Lucasfilm on Netflix. Classic Disney films will be available immediately on Netflix, while new releases will not begin streaming until after the existing deal with Starz expires in 2016.
The deal will allow Netflix to stream Disney new releases seven to nine months after the films appear in theaters, the same deal Disney made with Starz. Movies from Steven Spielberg's DreamWorks studios are not included in the deal, as it distributes its movies to TV through CBS' Showtime, Reuters reports.
The deal also gives Netflix first-run rights to Disney's direct-to-video releases, starting in 2013.
---