Will music resurrect Myspace?
As Myspace reinvents itself, the social network aims to be nexus for bands and fans.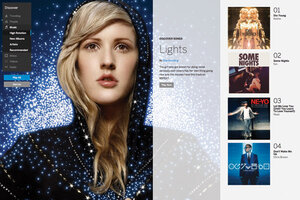 Myspace
In 2007, MySpace ruled social networking. The multibillion-dollar online empire had four times as many members as its chief rival, Facebook.
Yet by 2009, the site had nearly collapsed. My­Space crumbled under the weight of intrusive ads, dubious management, and an ascendant Facebook. Close to a million users abandoned the website each month for two years. After several rebranding attempts, even the "S" in the site's name shrank to a fraction of its former glory. Myspace was finished.
News Corp, which bought the site for $580 million, dumped it last year for $35 million.
The site's new owners have rebuilt My­space from scratch. Pop star Justin Timberlake and ad firm Specific Media scooped it up with plans to revitalize the social network while acknowledging that there's no use in fighting Facebook.
The new Myspace focuses the last constituency to stick with the social network: musicians.
"You've got places [other websites] where you can listen to an artist's songs, but not really where you can come together and discover them and enjoy all of their content and connect with them – all in one place," says Jason Knapp, executive vice president of product for Myspace. "That hasn't really come back since it went away with the first Myspace."
---