Suffix rush: the rise of 'dot whatever'
Why we'll see hundreds of new site names in 2013.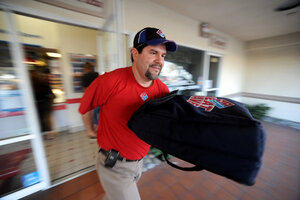 Bart Ah You/The Modesto Bee/AP
For years, there have been just a handful of ways to end a website address. There's .com, .org, .edu, and a bunch of country-specific codes, such as .fr for French websites.
But by the end of this year, there will be hundreds of new website suffixes. The Internet Corporation for Assigned Names and Numbers, the international group that oversees online addresses, has thrown open the doors, allowing businesses and speculators to apply for any name they want. The response caught ICANN off guard.
"When the new program was first rolled out, we were anticipating somewhere between 200 and, at a maximum, 500 applications – we received nearly 2,000 applications," says Christine Willett, general manager of the ICANN program that will hand out these new suffixes, officially called generic top-level domains (gTLDs).
This massive (virtual) land run marks perhaps the largest expansion of online real estate since the inception of .com and, if successful, could dramatically change the look of Web addresses.
Internet prospectors raced to plant a flag in .baby, .mobile, and .soccer. Automakers applied for .honda, .chevy, and .ford. Google applied for 101 gTLDs, including .fun, .diy, and .youtube.
If ICANN approves, for example, the .pizza gTLD, then it will hand the winning applicant exclusive rights to create any number of new Web addresses with that suffix. You might see www.thebest.pizza as a new home for restaurant reviews. The winner could also strike deals with major pizzeria chains to create www.dominos.pizza and www.papajohns.pizza as a replacement or sister site for their current websites.
---