Betty White on safari in Washington for new animal picture book
Actress Betty White goes on safari to Washington National Zoo for her new animal picture book.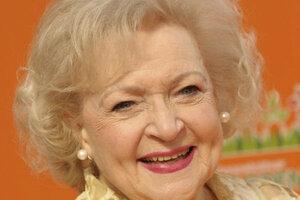 AP/file
Betty White is headed to Washington to see the wildlife – not the donkeys and elephants on Capitol Hill, but the animals in the National Zoo.
After a stop at the Smithsonian on Thursday, Ms. White will visit the zoo one day later to indulge her passion: animal watching. She's looking forward to viewing the fertility-challenged pandas and a harmonica-playing elephant, among other animals.
"My interest in animals started in the womb," the 90-year-old actress told The Associated Press. "I think my mother's and father's started in the same place. They were animal nuts long before I came along."
When White was young, her family had pet Pekingese – an "unappreciated little toy dog" that is incredibly intelligent, she said.
During the Depression, her father starting building radios to make some extra money. But most people couldn't afford to buy radios, she said, so her father would trade them – usually for more dogs. At one point, they wound up with 11 dogs in the house.
---