Justin Bieber paparazzo killed: Lessons from this tragedy?
Justin Bieber paparazzo killed: On Tuesday, a photographer was killed by a vehicle while chasing pop star Justin Bieber. In today's celebrity-driven culture, how can paparazzo tragedies like this be avoided?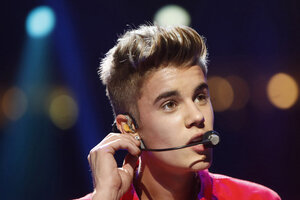 Carlo Allegri/Reuters/File
On Tuesday evening in Los Angeles, a photographer crossing a California freeway on foot was struck by a vehicle and killed while chasing teen pop sensation Justin Bieber.
The incident harkens memories of Princess Diana's tragic death 15 years ago. While this time it was the paparazzo – not the celebrity – who paid the price, this tragedy raises again questions about privacy vs. First Amendment rights, stalking vs. publicity, and the perception of "the money shot."
The photographer, whose name has not been officially released, was chasing Bieber's white Ferrari. According to CNN and gossip site Gawker, the photographer crossed Sepulveda Boulevard and began snapping pictures while the car was parked.
Police repeatedly told him to return to his car, and while re-crossing Sepulveda to leave, the photographer was struck by on-coming traffic. Bieber was not in the car at the time; a friend was reportedly driving it.
In 2010, the state of California passed the "Paparazzi Bill" in an effort to avoid such incidents. The law cracked down on photographers for reckless driving, blocking sidewalks, and creating a sense of "false imprisonment," in pursuit of celebrity photographs.
---