Ai Weiwei: Can an artist change society?
Chinese artist Ai Weiwei's provocative work spotlights human rights and pushes government boundaries.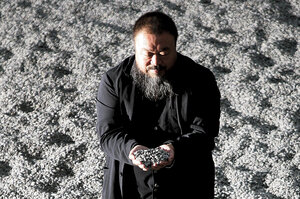 Newscom
In a video smuggled to a recent TED conference (which he was forbidden to attend) Chinese artist Ai Weiwei insisted, "Art is about social change." Apparently, the potential for change spearheaded by China's most celebrated global art star troubles China's leaders. On April 3 authorities seized Mr. Ai, who disappeared into a news blackout illuminated only by vague allegations of "economic crimes."
Although a show of his art has been "indefinitely postponed" in the People's Republic of China, a public art piece by Ai, "Circle of Animals/Zodiac Heads," is on view at 59th Street and Fifth Avenue from May 4 to July 15. "It's a piece that resonates on lots of different levels," according to Kate Levin, commissioner of the New York City Department of Cultural Affairs. Consisting of 12 four-foot-high bronze animal heads, it's a replica of an 18th-century water clock at the imperial Summer Palace outside Beijing. While the tiger, rabbit, and monkey heads may seem like whimsical carousel characters, the background of the originals adds complexity and ambiguity.
Ai, Ms. Levin says, "is inviting people to think in an informed, engaged way about history," and this piece has "a number of rich and painful associations," since the originals were hauled off by European looters in 1860.
---