Top picks: A video by Croatian cellists, Michelle Obama's new book, and more
Singer Melody Gardot embraces multiculturalism, noir writer Philip Kerr pens another winner with 'Prague Fatale,' and more top picks.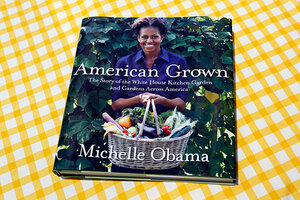 Charles Dharapak/AP
Raising the rafters
Tune up your passion for opera. "Great Performances at the Met" features Verdi's "Ernani," based on the Victor Hugo play. It features three men – two nobles, one a bandit, who try to outmaneuver one another to win the love of the beautiful Elvira. It stars soprano Angela Meade and is conducted by Marco Armiliato in a Pier Luigi Samaratani production. It airs Sunday, June 17, on PBS at 12 p.m.
Cellist rock stars
Croatian cellists Luka Sulic and Stjepan Hauser, also known as 2Cellos, have released another YouTube video. This time it's a unique rendition of Trent Reznor's "Hurt" (http://bit.ly/2cellos-hurt). 2Cellos became a viral hit last year after their video of Michael Jackson's "Smooth Criminal" caught the attention of Sony Masterworks and pop legend Elton John invited them to join him on tour.
Jazz Whisperer
No one would ever guess where singer Melody Gardot is from by listening to her wondrous new album "The Absence." The sultry, breathy voice should be a clue. Is that bossa nova we hear? She must be Portuguese! No? What about that accent and musette vibe? Not French? Ooh, island rhythms! Bahamian? Give up? OK, she's from New Jersey, but you get the point. "The Absence" is a delectable buffet of world music styles, sung whisper-soft and played with gentle rhythms and impeccable taste. Treat yourself.
---