Top Picks: Ernie Kovacs' lost tape, Bibi Tanga's new album, and more
One man explores rock history in 12 minutes, 'Singin' in the Rain' gets an anniversary edition, and more top picks.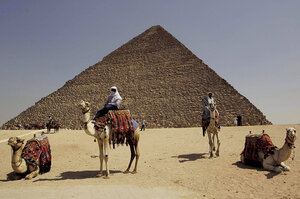 Ammar Awad/Reuters
Priceless art up close
The Barnes Collection takes viewers on an intimate tour of the art collection of Dr. Albert Barnes, housed in a new Philadelphia museum. Travel the world, and through history, to understand how he put together this unusual collection, including 20th-century masters such as Picasso and Matisse. The hour-long documentary airs on PBS Aug. 3 at 9 p.m. Check local listings.
Continental funk
Born in Bangui in the Central African Republic, then raised as a diplomat's son in Russia, France, and the United States, Bibi Tanga grew up listening to a variety of music. And what comes out in his latest album, 40 degrees of Sunshine, is a whirlwind tour. The track likely to get you to hit the repeat button is "My Heart is Jumping," a James Brown-style funkfest, but Tanga and the gang also deliver up some traditional soukous styles, a bit of Prince, and a bit of avant-garde poetry thrown in for good measure.
---