Top Picks: The Best Exotic Marigold Hotel, country musician Kathy Mattea's new album, and more
Time answers classic childhood questions, PBS's 'American Masters' examines the life of Carl Sandburg, and more top picks.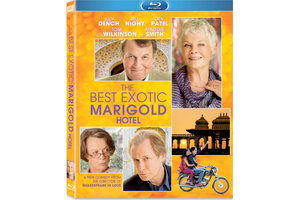 Courtesy of EPK TV
Childhood wonder
Why are bloodhounds such excellent sniffers? What fills the dark spaces between stars and planets? What's a dust devil? Time for Kids Big Book of What? digs into classic childhood questions with 175 pages of fascinating, fully illustrated explanations. This tome of trivia also comes with several "Try It" activities so that kids – and adults – can test their new knowledge, such as how to construct a boomerang out of a cereal box and staples.
Cross-border compositions
Calexico,the Tucson-based band named after the Californian town on the Mexican border, recorded its eighth album, Algiers, in New Orleans. Confused? The album's musical geography is easier to map. "Algiers" exemplifies Calexico's Southwestern rock sound, anchored in nourishing guitars, deep-cavern Latin rhythms, and mariachi trumpets. Calexico specializes in panoramic vistas such as "Epic" and "Para." On "Puerto," a poignant tale of a migrant worker, the thrilling chorus emerges from a blind curve. "Algiers" is an exotic holiday for the ears.
Pack your bags for India
A gift-pack assortment of world-class British actors, including Maggie Smith, Bill Nighy, Tom Wilkinson, and Judi Dench, arrives on DVD and Blu-ray Sept. 18 as the cast of The Best Exotic Marigold Hotel. The characters all navigate personal crises as they arrive for a stay in a run-down hotel in India. It will come as no surprise that everybody's life issues get smoothed out, but some of the buffing and polishing is magnificent.
Home sweet sound
---