Glee finale disappoints: It's time for better writers
(Read article summary)
Glee, the last episode of this season, arrived with a thud. Is it time for Glee directors to put a little less attention on the music, and a little more on the script?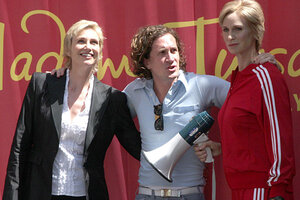 ZUMA Press/Newscom
On last night's season finale of GLEE, the gang from New Directions took Manhattan. Unfortunately, they left logic and reason back in Lima Ohio.
Note to writers Ian Brennan (pictured above), Brad Falchuk and Ryan Murphy : When it comes to your hit Fox show, we're willing to forgive an awful lot. So if we're expected to believe that New Directions — which has spent the better part of two seasons trying to make Nationals would leave it until the VERY LAST MINUTE to write, not to mention choreograph and costume an original song — so be it! If you want us to buy into Mercedes and Sam as a couple — who at last count have shared, what… two scenes together — fine! That said, we have to draw the line somewhere and what we are completely and unwilling to look past is last night's absurd opening scene that had Rachel Berry — who we're fairly confident could hit a high note before she could take her first step — buy 13 tickets to Broadway's Cats, a show that even Quinn knew closed 11 years ago! Suffice it to say, it's precisely that type of lazy and mindless writing that has us wondering if penning 22 episodes of GLEE per season has simply become too much of a burden for three people to bare.
RELATED: American Idol finale: Lauren Alaina and Scotty McCreery close on a low note
---