Ryan Reynolds in 3D theatrical trailer for 'Green Lantern'
(Read article summary)
Ryan Reynolds is in a new 3D theatrical trailer released by Warner Bros. Blake Lively, Geoffrey Rush and Peter Sarsgaard join Ryan Reynolds.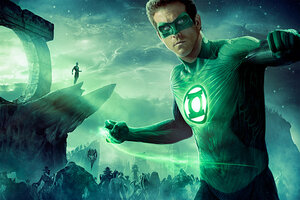 Warner Bros. Pictures/Newscom
Warner Bros. have released a new 'alternate 3D' theatrical trailer for their summer tentpole flick, Green Lantern, and it actually seems pretty good. Which is odd because my over-riding reaction to this whole project has been one of mostly negative feelings.
This trailer - narrated by Geoffrey Rush - explores the sci-fi elements pretty well and although it looks a bit daft, perhaps Martin Campbell's movie might be fun and worth seeing after all. The visuals are great and although Ryan Reynolds is headlining, there's good support from Peter Sarsgaard, Tim Robbins, Blake Lively, Mark Strong and Geoffrey Rush to offset Reynolds shtick.
In a universe as vast as it is mysterious, a small but powerful force has existed for centuries. Protectors of peace and justice, they are called the Green Lantern Corps. A brotherhood of warriors sworn to keep intergalactic order, each Green Lantern wears a ring that grants him superpowers. But when a new enemy called Parallax threatens to destroy the balance of power in the Universe, their fate and the fate of Earth lie in the hands of their newest recruit, the first human ever selected: Hal Jordan.
---