New 'Green Hornet' has no buzz. Are minor league superheroes striking out?
What do the weak reviews for Columbia's new Seth Rogan vehicle, 'The Green Hornet,' mean for the league of second-tier superheroes set to swoop into theaters this summer?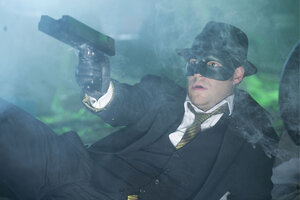 Jaimie Trueblood / Columbia Pictures-Sony / AP / File
"The Green Hornet" heads into the holiday weekend with less-than-boffo reviews.
Does this paltry punch behind the first of a league of superhero movies featuring less-familiar crime fighters – this summer's Thor, Captain America, and Green Lantern – mean dire news for the second-string colleagues of legendary crusaders Superman, Batman, and Spider-Man?
The stakes are huge. Superhero movies are rarely cheap, due to big special effects and pricey stars.
"Hornet," starring Seth Rogen, reportedly cost some $200 million for marketing and production, the same as "Iron Man 2," while "Spider-Man 3" cost an estimated $258 million, according to imdb.com.
"Superhero movies are a very reliable franchise for the studios," says Hollywood.com box office analyst Paul Dergarabedian. Even with occasional flops, "this is a very durable genre, one that is often review-proo," he says. When a franchise succeeds, he says, it can make up for many duds. "Spider-Man 3" took in $336 million in domestic box office alone, according to boxofficemojo.com.
---