Kanye West challenge on 'America's Best Dance Crew' inspires the competitors
(Read article summary)
The Kanye West challenge on 'America's Best Dance Crew' challenges the competitors to dance to a medley of West's songs.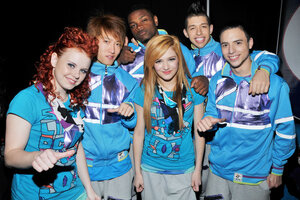 Sthanlee B. Mirador_Pacific Rim/Newscom
I realized, based on my excitement for this episode, that I hate the majority of superstars out there right now. Most of the featured artists in this season have blown. Kanye is someone whose music I love so I was pumped to have the crews dance to songs I actually enjoy. The fun part about this week was the crews weren't dancing to just one song, it was a medley of Kanye songs. That's how deep and awesome homeboy's discography is.
With only three crews left I was wondering how the show was going to fill an hour. One answer came in the form a group dance featuring the remaining crews. These don't really do it for me. They try and feature the strengths of each crew while simultaneously have them dance as a single unit, but I find the performances to be rather lackluster. Even dancing to the amazing "All of the Lights" wasn't enough. Is it the lack of challenges? Is it the lack of competition? I dunno, but I am underwhelmed. Another answer was longer dances. This I liked. The other answer is coming later in the review.
So read on.
As the number of crews dwindled it made IaMmE's chances of staying on top less and less likely. This week they were finally in the bottom as Iconic Boyz took the win and the guaranteed safety for next week's season finale. For the first time this season IaMmE had to battle for their right to stay alive.
Poreotix, the winners of season 5, were handing out the challenges this week. The crews had to incorporate certain moves into their routines. Iconic Boyz got the Dougie (a personal drunken favorite), the Boogaloo and Isos. I found myself losing track of the challenge parts because I got so into their dance. I had to watch it twice to catch everything. While I do believe, and have noted several times in past weeks, that the boys have gone as far as they have due to their age and cuteness. But they really can dance. And they're great performers. They've shown improvement week after week. JC may disagree but what does he know?
---