Rapper Common: Should he be disinvited from Obama poetry event?
(Read article summary)
Rapper Common is set to attend a 'Celebration of American Poetry' at the White House Wednesday, but Common has had harsh words for President George W. Bush in the past.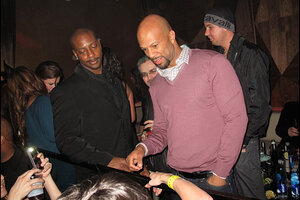 Newscom/file
Should President Obama have invited the rapper Common to perform at Wednesday's White House poetry event? Some people are upset that he's scheduled to appear. Common, that is, not Mr. Obama – it's OK for the nation's chief executive to go despite the fact someone may speak in (gasp!) iambic tetrameter.
The event is titled "Celebration of American Poetry," and it's part of a White House series of cultural evenings loosely structured around music. The series has already included performances devoted to country, classical, and Motown.
Common – aka Lonnie Rashid Lynn Jr. – is a Chicago native who is kind of a rising thing in hip hop, but his lyrics aren't always of the "My little horse must think it queer/To stop without a farmhouse near" variety.
In particular, his reference to the most recent GOP president has some Republicans riled.
"Burn a Bush cos' for peace he no push no button/Killing over oil and grease/no weapons of destruction" goes the Common work in question.
Possible GOP 2012 presidential candidates have weighed in condemning the Common choice. OK, one of them has, at least: Sarah Palin.
"Oh lovely, White House," the former Alaska governor tweeted earlier this week.
Speaking as a former English major, we'll say this about the controversy: at least the critics care enough about poetry to consider it dangerous. That makes the whole art form seem more vital, somehow.
---