'Glee' actors shed light on writers' methods
(Read article summary)
According to actors on Fox's hit show 'Glee,' the writers are making the story up as they go along.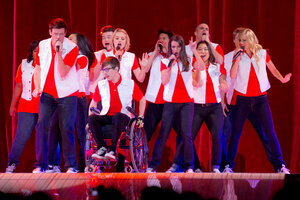 John Salangsang/LEP/Splash/Newscom
Were you one of the many 'Glee' fans who felt let down by the hit Fox show's arguably uneven sophomore season? Did the de-emphasis on coherent and logical storytelling leave you to suspect that somewhat more care was going into picking and producing the incredibly lucrative songs for the show than the scripts? Well, consider those suspicions confirmed by none other the stars of the show themselves.
Evidently, the 'Glee' writers are quite literally making it up as they go along. At least according to Matthew Morrison (Mr. Schuester), Dot Marie Jones (Coach Beaste) and Iqbal Theba (Principal Figgins), who were on hand to help launch Global TV's Fall Lineup at the Sony Center in Toronto on Tuesday.
"The show is written with only three writers and Ryan and them are so busy, they're writing as we go and working their butts off," admitted Dot Marie Jones when asked if she could shed any light on what may-or-may-not be in store for Coach Beiste next season. "Somedays they'd only finish three of the six acts — so when we'd get a script two days before we start working and you weren't anywhere in there — you'd know you're going to be in the episode, you'll just get your lines sometime during the eight days we shoot a show."
---