'The Hunger Games' trilogy to be split into four movies
(Read article summary)
Lionsgate has confirmed that 'The Hunger Games' film franchise, starring Jennifer Lawrence, will not be a trilogy like the Suzanne Collins books. Instead, 'The Hunger Games' will be four feature films.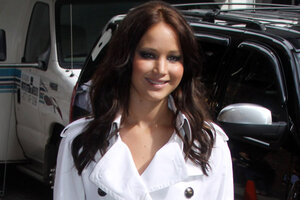 Newscom/File
Given the amount of backlash over the choice of up-and-comer Jennifer Lawrence (X:Men First Class) as 'The Hunger Games' lead Katniss Everdeen, not to mention the seeminglynever-ending casting updates, it's no surprise to hear that Lionsgate is expecting big things from the upcoming film franchise.
Even less surprising, but equally transparent, is the studio's choice to stretch Suzanne Collins' Hunger Games book trilogy into a film quadrilogy (four movies) – taking a marketing cue from similar young adult books-turned-megamoney film franchises, Harry Potter and Twilight.
Deadline New York broke the news earlier today with a subtle mention that the narrative would span four films instead of the book series' three-part format:
"Lionsgate executives told Wall Street analysts this morning to expect big things from 'The Hunger Games', a series of four action films that the studio will release from the trilogy written by Suzanne Collins."
---