The Wave: movie review
(Read article summary)
A fictional twist on psychological experiments illustrating Germans' compliance during the Nazi regime, 'The Wave' explores one teacher's experience teaching about autocracy in a current-day German high school.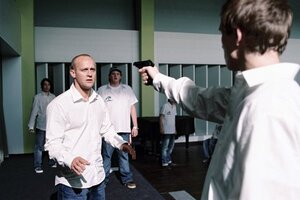 Rat Pack Film Production GMBH/Constantin Film Production/Newscom
3.5 / 5 stars
Some of the more controversial experiments in modern psychology have dealt with how far test subjects will go when told to do something. A few years before the infamous 1971 Stanford prison experiment, in which student "officers" abused their peer "prisoners," an exercise known as "The Third Wave" took place at a California high school. To illustrate the Germans' complicity during the Nazi regime, a teacher motivated his students into creating a unified, anti-Democracy front that looked frighteningly familiar. Of course, it caught on like wildfire, later inspiring a TV movie, an award-winning novelization, and now filmmaker Dennis Gansel's fictional take with a twist: The Wave takes place in a current-day high school in Germany, the original scene of the crime, so to speak. It's an intriguing slant on the story, an occasionally damning portrayal of pointless power.
---