Anne Hathaway raps, really (video)
(Read article summary)
Anne Hathaway shows off her nascent skills as a rapper on the Conan O'Brien Show. There have been rappers who prove that they can act, but not so much for actors turning to rap.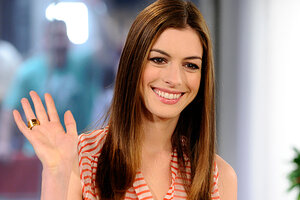 Peter Kramer/NBC/AP
In an appearance on NBC's 'Today' show Thursday morning, to discuss her new movie "One Day," which opens in theaters this Friday, Ann Hathaway spoke with host Matt Lauer.
During the interview Lauer asked Hathaway, "what's with the rapping?"
Referring to her debut as a rapper on the Conan O'Brien Show Tuesday night. She said that her style is modeled after rapper Lil Wayne, and is her way of dealing with the paparazzi and expressing her feelings about the presence of the press in her life. Hathaway is under more scrutiny now after co-hosting the Academy Awards this year, and is playing Catwoman in the next Batman movie, The Dark Knight Rises, due out in 2012.
Hathaway explained that she first performed the anti-paparazzi rap song – which she wrote – in front of her friends and got some laughs.
When asked by the producers of the Conan show if Hathaway would perform on air, she said, "yes."
The rap begins: "Yo I'm a paparazzi, I don't play no yahtzee, I go pop pop pop pop pop."
Was this a boost for ratings? It's certainly getting passed around as a YouTube video.
---