Celebrating the Ginger Rogers century
(Read article summary)
A new exhibition highlights the stellar career of Ginger Rogers, a performer who was so much more than Fred Astaire's dancing partner.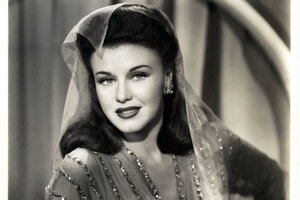 Courtesy of the Ginger Rogers Estate
Ginger Rogers will be forever locked in an elegant, eternal embrace with Fred Astaire, with whom she starred in 10 movie musicals that emphasized their fancy dance steps and glamourous costumes long before "Dancing With the Stars" turned into a modern-day TV hit.
The films became an iconic part of the 1930s, the Depression era starved for distraction from the hard times playing themselves out off screen.
But the celebration of the 100th anniversary of Rogers' birth this year (she died in 1995) is also revealing a solo Rogers who was a megastar in on her own, which included being the highest paid actor or actress in Hollywood in 1942, by one account.
Rogers won an Oscar for "Kitty Foyle" in 1940, a dramatic role that veered far from the comedies and musicals that dominated her earlier career. She went on to success on stage in musicals such as "Mame" and "Hello Dolly!", unveiled her star on the Hollywood Walk of Fame, and capped her career by being celebrated as a Kennedy Center Honoree in 1992.
A new exhibition called the "Ginger Rogers Century" at the Howard Gotlieb Archival Research Center at Boston University reveals Rogers' career for what it was: long, varied, and, quite often, brilliant.
Rogers was among a group of strong female stars that emerged as movies moved out of the 1920s silent era into one where women uttered snappy dialogue and more than held their own against the male stars of the day, pointed out journalist and film historian Nick Clooney (father of actor George Clooney and brother of singer Rosemary Clooney) at an event marking the opening of the exhibition Oct. 24.
"In her later years she became a very, very important dramatic actress. And she was a wonderful comedienne," said actress Angela Lansbury, who was raised in England before World War II watching Rogers perform on film, in an interview before the event with the Monitor. "But basically I remember her dancing with Fred Astaire. That, to me, was absolutely 'it' .... I thought nobody danced with the flair and abandon and extraordinary skill that she did. And she was so much fun."
---