'Wrath of the Titans' has good CGI but a weak script
(Read article summary)
'Wrath of the Titans' is slightly better than its predecessor, but actor Sam Worthington is still an uninteresting lead.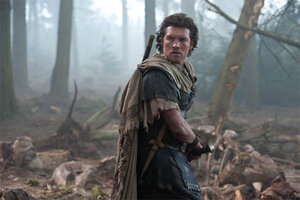 Warner Bros./AP
Wrath of the Titans picks up about a decade after Clash of the Titans, where we find Kraken-slaying demigod Perseus (Sam Worthington) having traded his sword for the mundane life of a fisherman and father to his son, Helius. (Sadly his wife Io passed away – likely because the actress playing her didn't return for this sequel).
One night, Perseus' father Zeus (Liam Neeson) appears to tell him of an ominous prophecy: Mankind has moved away from the gods, causing the gods to lose their powers. This loss has consequently weakened the walls of Tartarus, the underworld prison where the Olympians banished the monstrous Titans – including Kronos, the father of Zeus, Hades and Poseidon. Zeus needs help to hold Tartarus together, but Perseus is reluctant to return to battle – that is, until Hades (Ralph Fiennes) and Zeus' other son Ares (Édgar Ramírez) capture the god of lightning and begin to transfer his life force into the dormant Kronos.
With the fate of the world in the balance, Perseus recruits allies in the form of his old friend Queen Andromeda (Rosamund Pike) and Poseidon's demigod son Agenor (Toby Kebbell). The trio sets out on a dangerous quest into the underworld to free Zeus, and stop the Titans from breaking free and wreaking havoc upon the world.
Clash of the Titans was a somewhat underwhelming affair (read our review), with its wooden acting, formulaic, video game-style progression, poor 3D conversion and action sequences that were more lackluster than thrilling. Wrath of the Titans is indeed an improvement upon its predecessor – but not by much.
---