'Follies' and 'La Boheme' take Los Angeles by storm
(Read article summary)
'La Boheme' makes a classic new again, while Sondheim's 'Follies' is a show only now being hailed as a masterwork.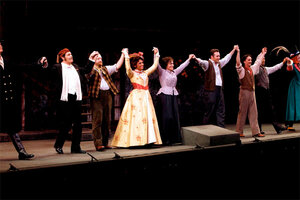 Joe Kohen/AP Images for Los Angeles Opera
The elegant Los Angeles Opera production of the consummate classic "La Boheme," anchoring one end of the downtown Los Angeles Music Center, is matched at the far end by a classic in the making, the sumptuous and much-lauded revival of Stephen Sondheim's 1971 groundbreaking "Follies."
The yin-yang contrast of these two vibrant musical events throws a neat spotlight on both the forces that keep a chestnut fresh and the challenges facing a work that is only belatedly being recognized as a theater landmark.
Both shows are constructed around the trials of two couples in the throes of passion and inevitability. In La Boheme, of course, Mimi's impending death becomes the engine for Giacomo Puccini's rhapsodically romantic melodies, tunes that have left audiences humming for more than a century. In the case of Sondheim's angst-filled duos, the clash of adult reality falling short of youthful dreams becomes the setting for two hours of what many at its debut thought was the demise of the American musical.
As Los Angeles Times critic Charles McNulty put it, many initially said musical theater had been hijacked by Eugene O'Neill after viewing the dyspeptic, snarky and often laugh-out-loud hilarity of 20th century realism exploding the expectations of song-filled love affairs. The song "Could I Leave You?" may be one of the most satisfying deconstructions of a broken marriage in the musical theater. This production launched last year in Washington, played on Broadway and has been nominated for eight Tony awards, including Best Revival.
---