'Mad Men' examines the Hare Krishna movement
(Read article summary)
'Mad Men' brought back an old character who has found new faith in its newest episode.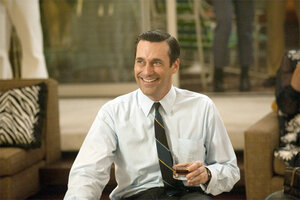 Ron Jaffe/AMC/AP
Considering how defined the characters on Mad Men are by their pursuit of achievement, it's not hard to imagine any of them being done near irreparable harm by the realization that perhaps they're not fit – or no longer fit – for the world of advertising. Given the effort the likes of Don (Jon Hamm), and especially, Peggy (Elisabeth Moss) have put in to attain such a career, seeing them stumble, as they have of late, is particularly worrisome when the end result of consistent failure is so dreadfully realized in the return of Paul Kinsey (Michael Gladis).
Thankfully, the more fragile personalities of SCDP are largely spared the vision of a Hare Krishna Kinsey – which is a good thing, taking into account that the ego-battering of work of Michael Ginsberg (Ben Feldman), and the effortless, drifting success of Megan Draper (Jessica Paré) have already taken a rather sizeable toll.
'Christmas Waltz' moves Sterling Cooper Draper Pryce a little closer to the end of 1966, but with little to show for it. Mohawk is ceasing its advertising in the wake of a mechanics strike, and the agency's only claim to fame is Don's letter to Lucky Strike – which inadvertently steered most of the really big fish away from the agency. In addition, none of their work is seen as revolutionary enough to warrant mention in a New York Times Sunday Magazine piece. In essence, the company's creative side has a stagnation problem – which would normally mean no Christmas bonuses, but since Lane Pryce (Jared Harris) owes some back taxes to England, he figures passing off a new line of credit as a surplus will justify the bonus he uses to pay the sum off.
---