'Delta Boys' director Andrew Berends talks about being arrested in Nigeria
(Read article summary)
Berends was arrested and expelled from the country by the Nigerian government.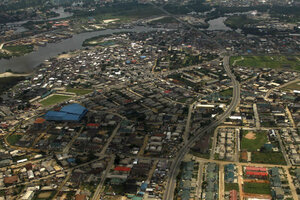 Akintunde Akinleye/REUTERS
In 2008 while making his documentary Delta Boys, filmmaker Andrew Berends (The Blood of My Brother, When Adnan Comes Home) was arrested and falsely accused of espionage at the bustling Nembe waterside in Port Harcourt, Nigeria, while filming women bringing their products to the market. Also arrested were his translator, Samuel George, and host Joe Bussio. Berends was detained for 10 days and expelled from the country by the Nigerian government in a bid to suppress media coverage of the Niger Delta conflict. In the end, Berends was never charged with a crime, but George's and Bussio's legal statuses then remained undetermined. A fundraiser had been set up for people to contribute to their legal fees. Bussio had eventually been cleared of all charges, and George was expected to report to the authorities soon after, and he too was eventually let go, according to Berends.
Berends in a statement said, "It is important that translators and local journalists around the world know they can do their jobs without fear for their lives, their families, or the expenses they will incur on our behalf." Berends's experience in Nigeria is just one example of a government using its power to deter journalists from reporting their stories, but this is not just happening overseas.
---