'Les Miserables' first trailer debuts online
(Read article summary)
'Les Miserables' will hit theaters Dec. 14.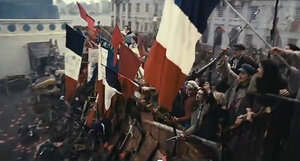 Universal/YouTube screenshot
An official teaser trailer has been released for Oscar-winning director Tom Hooper's adaptation of producer Cameron Mackintosh's Les Misérables stage musical. The film chronicles the struggles of lower-class citizens in early 19th century France – as seen through the eyes of characters like the ex-convict Jean Valjean (Hugh Jackman) and struggling single mother Fantine (Anne Hathaway).
Yesterday's batch of official images from Les Misérables (colloquially known as Les Miz) teased the design of the film's period setting, along with the look of its cast "in character." The first theatrical promo offers even more of that, along with an excerpt from Hathaway's rendition of the famous Les Miz tune "I Dreamed a Dream."
Something that immediately jumps out about Hathaway's singing (in a good way) is how naturalistic and unprocessed it sounds. Of course, that is a direct result of Hooper's decision to have the entire Les Miz cast perform their songs live during production. Hence, Hathaway's musical performance feels all the more organic to her surroundings – as opposed to, sounding like something that was (literally) recorded and dubbed over at a separate time, similar to just about every other movie musical in recent memory.
---