'The Amazing Spider-Man': not the first comic book to get the reboot
(Read article summary)
While the gap between 'Amazing' and the last Spider-Man movie is only a few years, reviews for the new version have been fairly positive so far.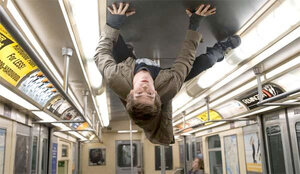 Jaimie Trueblood/Columbia Sony Pictures/AP
As "The Amazing Spider-Man" swings into theaters, naysayers are pointing to the date of the last "Spider-Man" film – 2007, to be exact.
The new film, starring Andrew Garfield as the webslinger and a cast of kind-of-new main characters, is being billed as a reboot of the trilogy that came to theaters starting in 2002 with "Spider-Man," directed by Sam Raimi and starring Tobey Maguire. The first one was received positively by critics and audiences, and "Spider-Man 2" was widely acknowledged to be even better than its predecessor, with actor Alfred Molina taking on the role of the villainous Dr. Octopus (that's Doc Ock to you). Then "Spider-Man 3" came, which both critics and audiences agreed was too stuffed with villains and plotlines and is perhaps best remembered for its sequence in which an evil Maguire dances in a jazz club.
A fourth movie by the team who produced the last three was planned, with a release date announced, but ultimately Raimi told the studio he couldn't produce a film in that timeframe and still meet his personal standards.
"While we were looking forward to doing a fourth one together, the studio and Marvel have a unique opportunity to take the franchise in a new direction, and I know they will do a terrific job," the director said at the time when they decided to put the kibosh on a fourth film and go with a reboot.
---