Superheroes arrive to rescue ... Hollywood?
Box office analysts say 'The Avengers' is only the beginning of potential blockbusters for the summer season.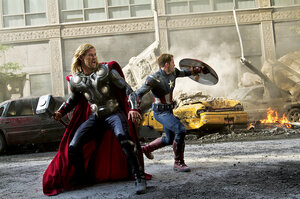 Disney/AP
After last year's worst-since-1995 box office sales for the movie industry, the record-setting opening weekend for "The Avengers" – $207.4 million at domestic theaters – was welcome news. The opening that outpaced the finale of "Harry Potter" followed an earlier overseas release that had been met with thundering approval.
"The Avengers" promises to be a huge plus for Disney, hit hard by the disappointment of "John Carter," the all-star extravaganza that failed to connect with audiences in March. But it's not yet clear whether the global appeal of "The Avengers," which made $441 million overseas in its first week, will pave the way for more good-versus-evil hits that transcend cultural and language barriers.
"[I]n an era of globalization, international markets are more important than ever," says Peter Lehman, director of the Center for Film, Media and Popular Culture at Arizona State University. "But ... many Hollywood action films will open overseas and not be blockbusters or even big hits" in the United States, he says. Other analysts say the overseas success of "The Avengers" points to the cultural earmarks of our times.
---